WELCOME TO RÊVE DIAMONDS' FANCY-COLORED DIAMOND COLLECTION
Looking To Buy Loose Diamonds or Fancy-Colored Diamonds?
Search our inventory below or book a visit to our New York or Dallas Showrooms.
NATURAL FANCY-COLORED DIAMONDS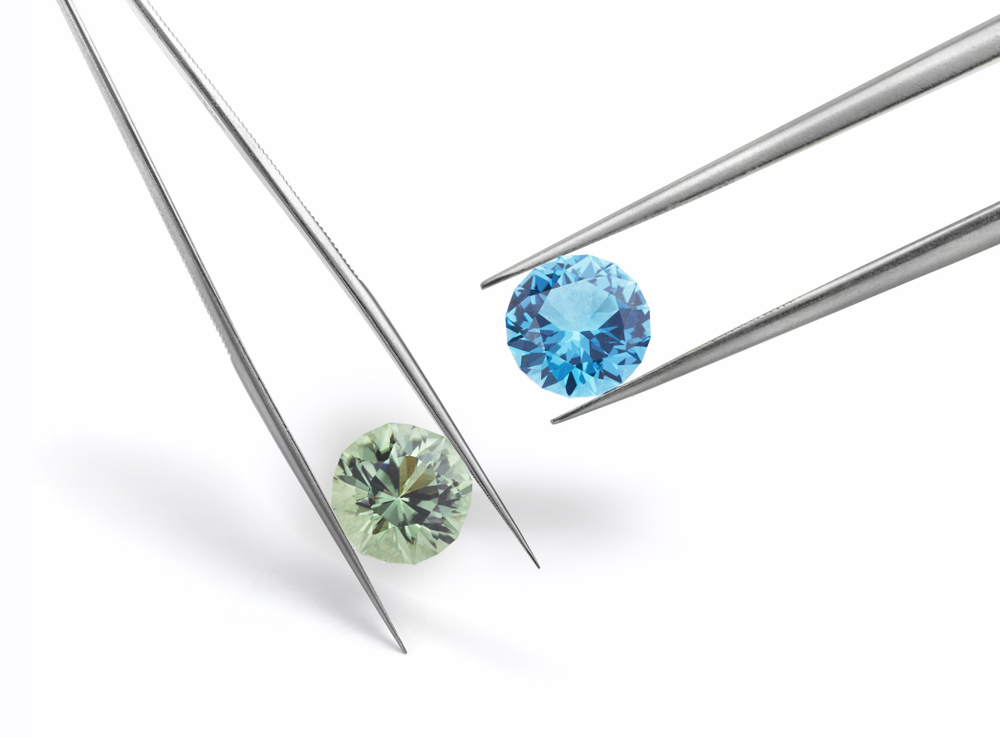 When you hear the word diamond, what image automatically springs to mind? The answer for many people will be a clear, almost white, sparkling gemstone. And you would, of course, be correct, but did you know that diamonds are also found in other colors?
Colored diamonds are admittedly a rarity, but they do exist in a vivid rainbow of colors. They are referred to as "natural fancy-colored diamonds," and it's easy to see why they are a rarity in the world of gemstones, as only 10,000 diamonds actually possess natural fancy color. That's less than 1% of diamonds annually graded by the Gemological Institute of America (GIA), which are classified as fancy-colored diamonds, making them the most highly prized of stones.
While natural fancy-colored diamonds have always been highly desired for their rarity, in the last three decades, their popularity has increased dramatically. This can be largely attributed to the Western Australian Argyle mine, which cleverly started to market its brown diamonds in the 1980s using the trade names of "Cognac" and "Champagne," increasing the appeal of natural fancy-colored diamonds to jewelry buyers. This mine is also responsible for 90% of the global supply of red and pink diamonds.
If you're considering the purchase of natural fancy-colored diamonds, we've compiled a short educational guide to help you understand a little more about these beautiful gemstones and to assist you in selecting the natural fancy-colored diamond that is perfect for you.
THE FORMATION PROCESS OF NATURAL FANCY-COLORED DIAMONDS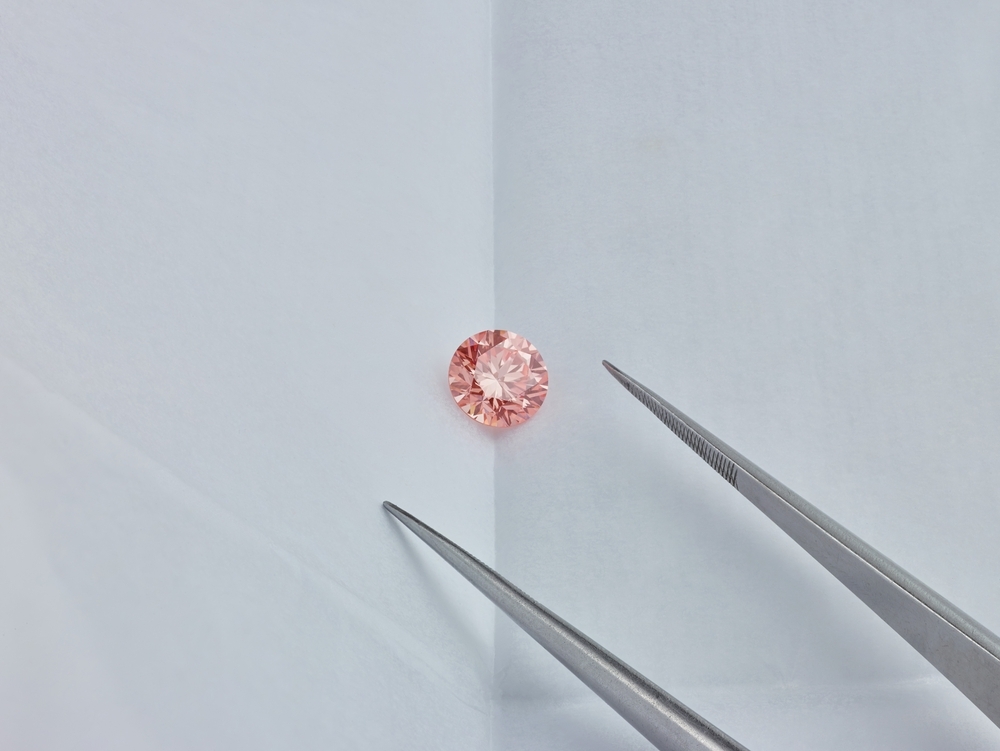 Natural fancy-colored diamonds are formed within the Earth's core by exactly the same process as traditional white diamonds. However, there's one unique difference that causes the presence of coloration within these diamonds.
Within their chemical composition, natural fancy-colored diamonds exhibit structural defects or impurities caused by the conditions prevailing during the crystallization process when the diamond was first formed.
Foreign particles that become trapped during this crystallization process affect and alter the chemical process, resulting in diamonds with rare and unique colorings and different intensities of these hues.
FANCY-COLORED DIAMOND OPTIONS
The different colors of natural fancy-colored diamonds are created by different particulates and trace minerals, resulting in different colors and intensities of color: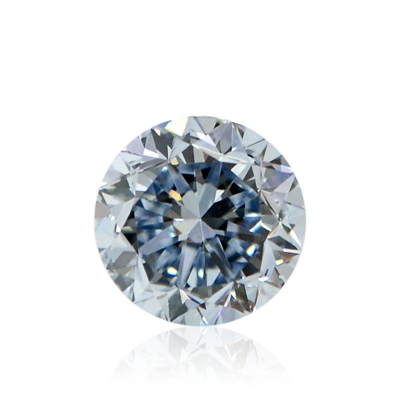 Blue and Gray Diamonds
Natural blue diamonds are a result of the presence of the impurity of boron. Boron bonds to carbon within the crystal structure of the diamond and absorbs the yellow, red and green areas of the color spectrum, creating a blue natural fancy-colored diamond. Many blue diamonds are seen to be modified by a secondary gray tone or saturation that's uneven, which is what makes highly saturated blue diamonds extremely rare and very desirable.
Learn more about fancy blue diamonds.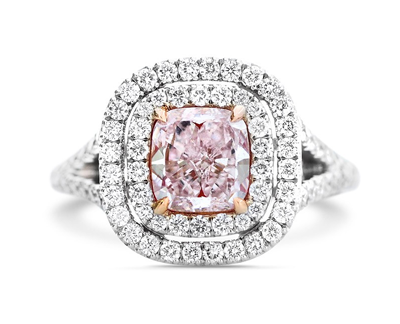 Pink and Red Diamonds
The colors of pink and red natural fancy-colored diamonds are created by a combination of highly intense heat and pressure whilst these diamonds are buried within the Earth's core. These two factors work together to distort the structure of the crystal lattice so that when it absorbs green light, this then reflects a pink hue. Red natural fancy-colored diamonds are the rarest of all colors. They are thought to be essentially deeply colored pink diamonds. Whilst very attractive and rare, they are not the most valued of natural fancy-colored diamonds.
Learn more about fancy pink diamonds.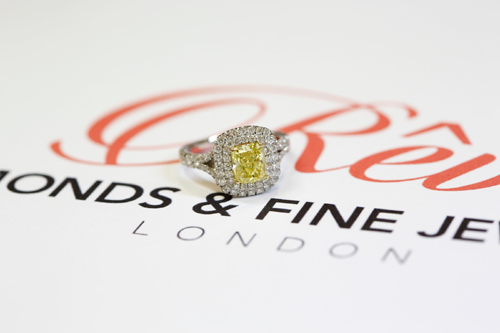 Brown, Orange and Yellow Diamonds
Nitrogen is the element responsible for the coloration of brown, yellow, and orange colored diamonds. When the diamond is forming, Nitrogen atoms in its carbon crystal structure arrange themselves in such a way that the blue range of the color spectrum is absorbed, producing a yellow color. Brown and orange coloration is caused by a specific grouping of these Nitrogen atoms that causes absorption of light in both the blue and yellow spectrums. Brown and yellow are the most common of the natural fancy-colored diamonds.
Learn more about fancy yellow diamonds.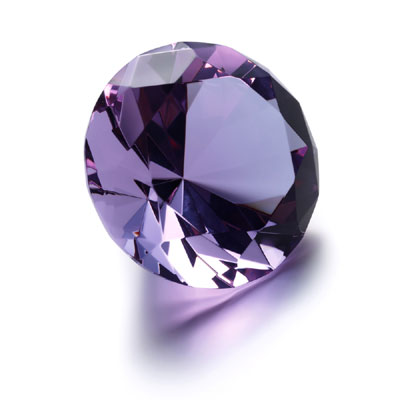 Purple and Violet Diamonds
It is still unproven as to what factors actually cause the formation of purple and violet natural colored diamonds. However,it's thought that the presence of hydrogen may be partly responsible for their hue.
Learn more about fancy purple and violet diamonds.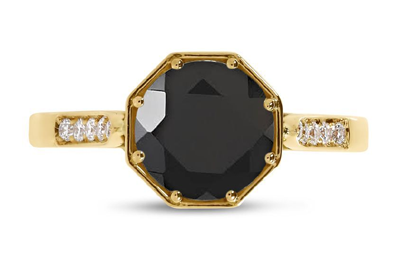 Black diamonds
Black natural fancy-colored diamonds are made up of many tiny black crystals. They are bound together by internal inclusions that hold the tiny diamond particles together – this is known as a polycrystalline structure and is the reason this type of diamond exhibits a dark black color. In addition, unlike colorless diamonds, black natural fancy-colored diamonds absorb rather than refract and reflect light.
Learn more about fancy black diamonds.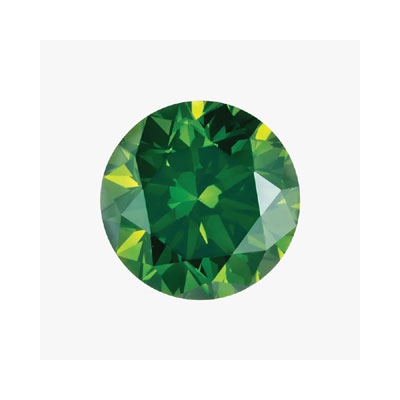 Green Diamonds
Just as they are about to leave the uppermost layer of the Earth's crust, green-colored diamonds absorb natural radiation, which causes them to absorb yellow and red light and reflect a green hue that gives them their color.
Learn more about fancy green diamonds.
FANCY-COLORED DIAMONDS GIA GRADES
Natural fancy-colored diamonds are graded and valued by the GIA using the factors of color, tone, saturation, and hue of the diamond. It is the combination of these factors that determines the value of the diamond, with color being the most important attribute.
The first step of the grading process for natural fancy-colored diamonds is to assess the diamond's "face up" color set against a neutral gray background to determine the basic color of the diamond. Once the color is determined, comparisons to a representative color are made using defined color space areas split into boxes. The natural fancy-colored diamond is placed in one of the boxes to identify the color characteristic that most closely matches that of the stone. The diamond is then color-classified according to the description of the color space it sits within.
Hue, tone, and saturation are also used in grading natural fancy-colored diamonds. Hue is the primary color of the diamond, with the GIA identifying 27 hues, each of which has a range of color possibilities. Tone is the definition of how light or dark the hue is, and saturation is the intensity of the diamond's coloration.
Nine grades are used within the GIA color grading system for natural fancy-colored diamonds. These are:
♦
Fancy Vivid
Fancy vivid diamonds are the highest grade and contain the most intense color saturation. These stones will usually have a very vibrant hue that stands out in any setting. They are also rare, so finding one can be difficult. However, these stones are highly sought after and can be very valuable investments.
♦
Fancy Intense
Fancy intense diamonds come in second place when it comes to color saturation and intensity. Though they may not be as striking as fancy vivids, they still make excellent investments due to their rarity and beauty.
♦
Fancy Deep
As the name implies, fancy deep diamonds contain deeper hues than those found in lower grades, such as Fancy Light or Light. While these stones may not have the same vibrancy as other grades, they still make beautiful centerpieces for any jewelry piece or collection.
♦
Fancy Dark
These diamonds have a deep and dark color tone but still contain enough color saturation to qualify as a fancy diamond grade according to the GIA grading system. They are often used for accents or side stones in jewelry designs due to their unique look.
♦
Fancy
The fancy grade is the middle ground grade for fancy-colored diamonds. They do not have the same intense color saturation as the highest grade but still have a lot more of a hue than the lowest.
♦
Fancy Light
As opposed to fancy vivid or intense diamonds, fancy light diamonds contain less color saturation but still retain some vibrancy that sets them apart from other stone types, such as sapphires or rubies. They make great centerpieces for necklaces and earrings due to their subtle yet stunning hue.
♦
Light
Light-colored diamonds are often used for accents because of their muted tones that do not overpower other gems in the design of a piece of jewelry. Despite having less color saturation than higher grades, such as fancy vivid or intense, light-colored diamonds still contain enough hue to set them apart from clear stones like white diamonds or topaz gems.
♦
Very Light
Very light-colored diamonds are similar to light-colored ones but with even less hue and color saturation than their counterparts in higher grades, such as fancy light or vivid stones, respectively—making them ideal accent pieces for any jewelry item you choose.
♦
Faint
Faint-colored diamonds do not possess much hue at all; however, they can still be used in certain pieces of jewelry where their lack of vibrancy allows other gems, such as ruby or sapphire stones, to shine without competition from nearby gemstones.
In terms of value, whilst colorless diamonds decrease in value as their color becomes stronger, whereas fancy natural-colored diamonds increase in value as the color becomes more vivid and pure. So the stronger the hue of natural fancy-colored diamonds correspondingly, the more valuable the diamond.
FAMOUS NATURAL FANCY-COLORED DIAMONDS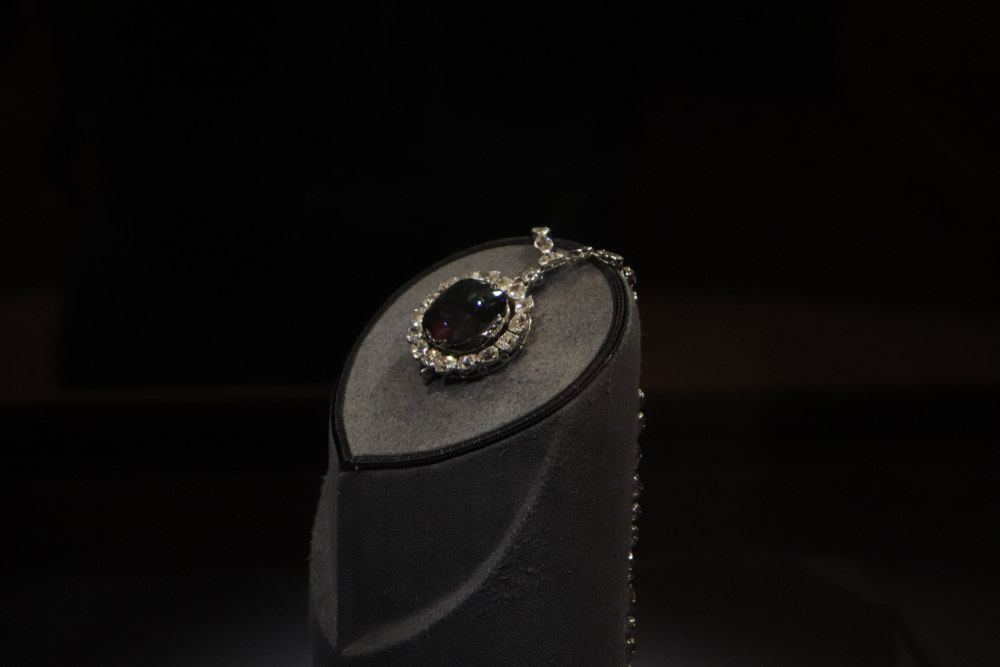 The Hope Diamond is perhaps the most famous of natural fancy-colored diamonds. It is deep blue in color with VS1 clarity and has a cushion antique brilliant cut with a faceted girdle and extra facets on the pavilion. This stunning diamond is of a deep blue color and is an impressive 45.52-carat stone. The Hope Diamond was originally extracted in the 17th century from the Kollur Mine in Guntur, India. It is widely acknowledged as one of the most sought-after diamonds, and its ownership can be traced back over four centuries.
Other famous natural fancy-colored diamonds include the Tiffany diamond, which was mined in South Africa in 1877 and is a canary yellow diamond of 128.54 carats. The most famous fancy-colored red diamond is the Moussaieff Red, mined in the 1990s in Brazil; its extracts were measured at 13.9 carats but were cut down to 5.11 carats. The Dresden Green is a natural apple green diamond believed to have been mined in India in 1722 and is an impressive 41-carat.
BUYING YOUR NATURAL FANCY-COLORED DIAMOND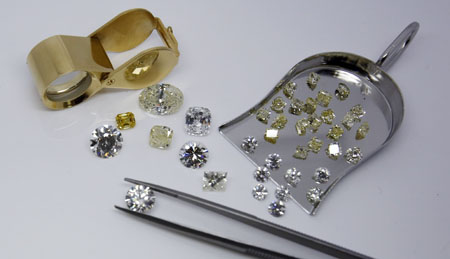 Natural fancy-colored diamonds are becoming an increasingly popular choice for both pieces of costume jewelry and colored diamond engagement rings being worn by many red-carpet celebrities and fashionistas.
They are a fabulous choice for the fashion-forward woman who likes to express her unique style or the woman who adores a touch of glamour. Alternatively, the choice of a natural fancy-colored diamond is perfect for a lady who has a signature color, such as pink to express her femininity or a pop of blue to accentuate her blue eyes.
Rêve Diamonds offer a wide range of GIA-certified highest, quality natural colored fancy diamonds. The shape, carat, cut and clarity of your chosen natural fancy diamond is entirely your choice, and our team of diamond experts will work with you to find the perfect diamond to suit your tastes and budget.
WHY CHOOSE RÊVE DIAMONDS FOR YOUR FANCY-COLORED DIAMONDS?
If you're looking for a fine selection of the most exquisite fancy-colored diamonds, then look no further than Rêve Diamond. We provide access to some of the rarest and finest gemstones from renowned sources around the world. With an unwavering commitment to top quality, our expert jewelers scrutinize every diamond before presenting it to our customers.
You can also be assured that each piece of diamond jewelry is crafted with superb craftsmanship and attention to detail by experienced artisans. At Rêve Diamond, you will find brilliant jewels made with beautiful, fancy-colored diamonds that possess an alluring sparkle like no other. If you're in search of luxury diamonds for any occasion or purpose, then trust that Rêve Diamonds has got you covered.
But that's not the only reason to choose Rêve:
♦
30-Day Return Policy
We pride ourselves on providing our customers with the highest quality diamond jewelry. However, we understand that sometimes a diamond doesn't work out how you hoped it would. Maybe it doesn't go with your style, or it's not the right size.
Whatever the reason, if you're not satisfied with your purchase, we offer a 30-day return policy.
♦
Fully Insured Shipping
We are committed to providing our customers with the highest level of service and security. That is why every purchase is insured from the moment it leaves our store until it reaches your doorstep. And if you ever need to return an item, we will even provide free return shipping, ensuring your purchase is fully protected. Simply use the free shipping label included in your package, and we'll take care of the rest.
♦
Free Shipping
At Rêve Diamonds, we understand the purchasing process should be easy and convenient. That's why we offer free, secure shipping on each order. No matter where you are, we will ensure your order arrives safely and quickly. Orders are shipped using the fastest delivery option available in your area, such as FedEx and UPS. We want you to be able to enjoy your purchase as soon as possible.
But Don't Just Take Our Word for It:
'Blown away'
★★★★★
"I had a brilliant experience dealing with RÊVE looking for an engagement ring. To personally explore the perfect band and diamond became such an easy process. I made my choice with their insights and knowledge, then, within two to three weeks, I was looking at a gorgeous ring that my partner was blown away by. I can't speak highly enough of the experience with Emma."
— Ciaran
'Friendly and approachable'
★★★★★
"Milena was amazing and very helpful. She gave great explanations, was patient with me as I knew nothing, and sent me pictures. Milena was also friendly and approachable; I would highly recommend her.
Thank you, Milena! My fiancé loved the ring!"
— Valentine
'A very happy fiancé'
★★★★★
"Excellent tailored service from start to finish. I've since been singing Rêve Diamonds' praises to everyone. Very competitive prices too. Milena was fantastic; she offered her views and ideas for the design. It was also refreshing not to feel tourist trapped in Hatton Garden. Outcome: one very happy fiancé."
— Max
FANCY-COLORED DIAMOND FAQS
ARE FANCY-COLORED DIAMONDS MORE EXPENSIVE?
Fancy-colored diamonds can often be even more expensive than traditional colorless diamonds, especially if they are vivid in color. The rarer and more unique the color of a diamond is, the higher its value will be. Unfortunately, there's no such thing as a cheap vibrant fancy-colored diamond — these precious stones carry a large price tag because of their intense visuals and luxurious charm.
That being said, not all fancy-colored diamonds are more expensive than normal diamonds. At Rêve Diamonds, we offer our retail customers wholesale prices, meaning you can buy diamonds at a much lower price than other jewelers can offer.
ARE FANCY-COLORED DIAMONDS REAL?
Fancy-colored diamonds are nothing new, but with their resurgence in popularity, it's only natural to question the legitimacy of these mysterious gems. The good news is that, yes, fancy-colored diamonds are truly real. But here's the exciting part: no two fancy-colored diamonds will ever be exactly alike because each gem naturally produces its own unique deep color and texture due to trace elements found inside the particular diamond's crystal lattice structure during its formation process. Whether for a stunning engagement ring or a special gift of global luxury, a genuine fancy-colored diamond is an exquisite treasure.
ARE FANCY-COLORED DIAMONDS A GOOD INVESTMENT?
Fancy-colored diamonds are appealing as a luxury investment. Sometimes called "investment grade" diamonds, these gems come in a range of vibrant, intense colors from red to green and beyond. For investors looking for a unique and timeless asset to add to their portfolios, fancy-colored diamonds offer the opportunity for appreciation over time based on current demand and intensity of color.
Investing in fancy-colored diamonds can be complicated, so it's important to find knowledgeable experts who understand the grading principles and market trends before making a purchase. With help from the right professionals, fancy-colored diamonds can be an attractive option for those searching for a way to add value and luxury to their long-term investments.
FIND A FANTASTIC FANCY-COLORED DIAMOND AT RÊVE DIAMONDS TODAY
Experience the excitement and glamour of owning a beautiful diamond by shopping at Rêve Diamonds. We specialize in fancy-colored diamonds, and our selection is sure to impress. Whether you're looking for a distinctive blue hue, an extraordinary yellow diamond, or a different eye-catching color, you can find something truly unique from Rêve Diamonds.
Our experienced jewelers can help you choose the perfect piece that suits your taste and lifestyle. With these options, you are sure to find the diamond of your dreams and turn it into a cherished heirloom.
Chat with us

Use our Live Chat facility on the bottom right of your screen to talk to a jewelry specialist in real-time without needing to call.

Call us

Give us a call and speak to an engagement ring expert directly. Get the information you need quickly and easily.

Book an appointment

Our loose diamonds and engagement rings are available to view in person in our New York showroom.

Whatsapp us

Prefer to speak to a jewellery expert through instant messaging? Send us a message today

Email us

Email service@revediamonds.com to book an appointment or get the advice you need.