Eternity Rings
An eternity ring symbolizes everlasting love and is usually given on the occasion of a significant anniversary in a relationship. We appreciate that choosing an eternity ring is a special moment and we have designed some special rings to help celebrate significant milestones.
Choose Your Eternity Ring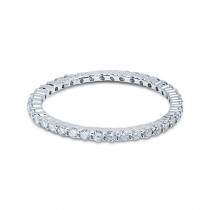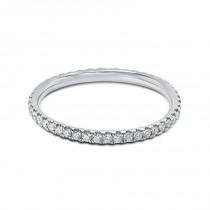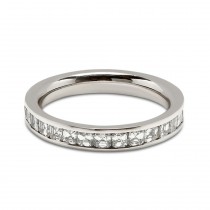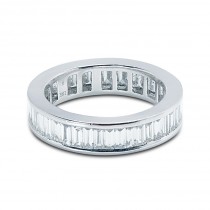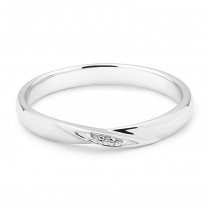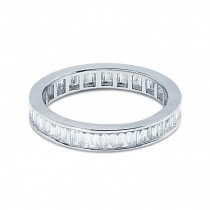 ---
WHAT TO CONSIDER WHEN BUYING AN ETERNITY RING
Eternity rings tend to be split into two categories:
---
HALF ETERNITY
Let's deal with the latter first. With a half eternity ring, stones are set halfway round the band. These rings usually feature nine, seven, or five gemstones, depending on the size of the stone. Half eternity rings can be resized, and they tend to be cheaper than full eternity rings, yet this does depend on carat weight and stone quality.
---
FULL ETERNITY
As you may have gathered, full eternity rings are those whereby the stones are set around the entire band of the ring. This is the perfect choice for someone who loves glamorous and luxurious styles, as the ring will sparkle from every angle. Please be mindful that full eternity rings cannot be resized.
---
SHOULD YOU GO FOR A DIAMOND OR GEMSTONE RING?
Of course, the choice is yours, however, diamond eternity rings are the conventional choice. This is because diamonds are considered the most beautiful, rare, and precious stone. Nevertheless, gemstone rings have grown in popularity considerably over the past few years, and thus you may want to consider a sapphire or a ruby eternity ring, for example. This will largely depend on your partner's taste. You could also go for their birthstone.
---
ETERNITY RING SETTING
You have numerous setting rings to choose from, and your decision is important; not just in terms of appearance, but also in regards to how secure the diamonds are. In general, you have three choices – bar-set eternity rings, channel-set eternity rings, and claw-set eternity rings.
A bar setting is one whereby metal bars are used to hold in the stones, letting in a lot of light and thus creating a beautiful glisten.
For a modern option, a channel setting is worth considering. With this type of ring, metal forms a channel at the ring's two edges, and the stones are set in this. This is good for woman with an active life, as the diamonds are very secure and the ring will not snag.
Finally, claw settings, which are also known as prong settings, are the most traditional option. This is ideal for allowing maximum light into the stone.
---
ETERNITY RING METAL
The next decision you need to make is what type of metal you are going to go for. If you are already married, you should go for the same metal as your partner's engagement ring and wedding ring. If you are not, take note of the type of jewellery she typically wears. In most cases, you will be choosing between platinum, white gold, and yellow gold.
Platinum is the most expensive, rarest, and luxurious. It has a stunning lustre and a natural brilliant white sheen.
White gold is also popular, as it is a more affordable solution and thus a great alternative to platinum.
Yellow gold is the traditional option, and is ideal for those who want a warm and conventional setting at a good price.