If you're looking for a way to show your loved one how much they mean to you, an eternity ring is a perfect gift. Traditionally given to mark relationship milestones such as a special wedding anniversary or the birth of a child, eternity rings symbolise everlasting love and are a meaningful way to show your commitment.
In this complete guide, we'll explore the history and meaning of the eternity ring and offer expert tips to help you select the perfect style for your special someone. Read on to find out more about this timeless token of eternal love.
What Is an Eternity Ring?
An eternity ring, also known as an infinity ring, features a precious metal band set with a continuous line of diamonds or gemstones. The sparkling stones around the band represent love, while the ring itself symbolises eternity. Eternity rings may be gifted to a loved one for several reasons but are generally considered a powerful symbol of commitment and neverending love.
The History of Eternity Rings
Eternity rings can be traced back to Ancient Egyptian times when rings were gifted from husbands to their wives as a symbol of everlasting love. Some of these ancient rings featured the image of a snake consuming its tail — the "ouroboros" emblem said to represent eternity, unity and the cycle of birth and death. The Egyptian belief in eternity meant that marriage was expected to last a lifetime and would even continue in the afterlife.
The circle had great symbolic significance in Egyptian culture, so it's not surprising that rings were used to represent an everlasting union. In the 4,000 years since then, wedding bands and eternity rings have evolved into separate pieces of Jewelry, but each is presented to a life partner as a promise and symbol of love.
The modern diamond eternity ring came to be in the 1960s when diamond merchants were looking for a way to market small uncut diamonds from the Soviet Union. They decided to encrust bands with these smaller diamonds to create a new product advertised to husbands as a gift for their wives to symbolise their continued commitment to marriage.
When Do You Give an Eternity Ring?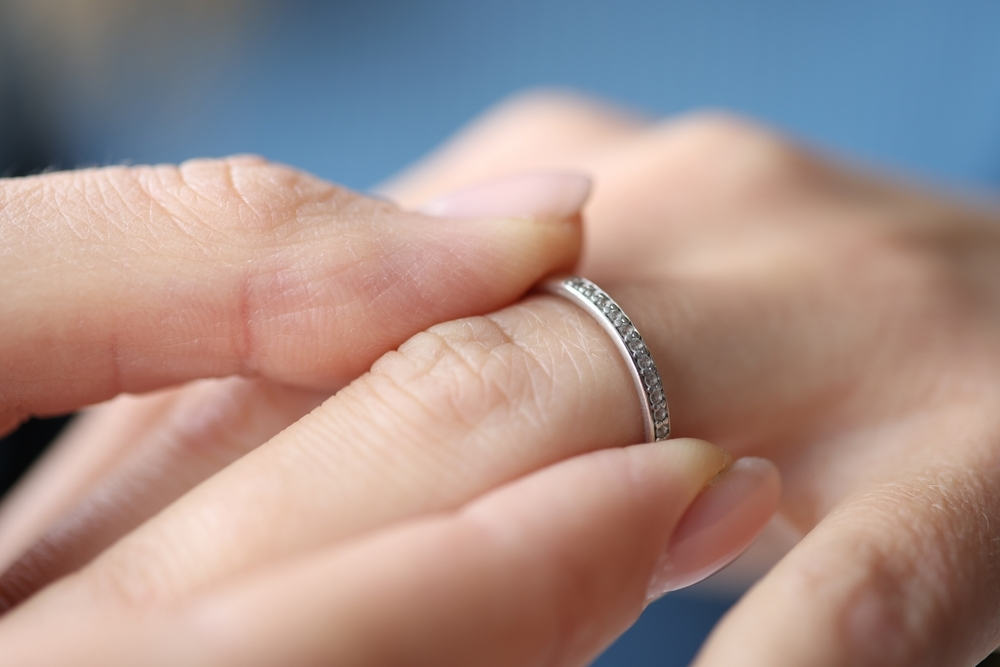 Eternity rings are typically gifted to mark special moments within a couple's relationship, whether this is an anniversary or the birth of a child. It's traditional to gift an eternity ring on an anniversary to signify that the love and vows made on the wedding day are everlasting. But this piece of Jewelry also makes an excellent romantic gesture on birthdays, Valentine's Day or other special occasions personal to you. If you'd like to give your loved one an eternity ring, it should be at a memorable milestone within your relationship that the two of you will cherish forever.

On Which Finger Should You Wear an Eternity Ring?
It's traditional to wear an eternity ring on the same finger as your wedding band and engagement ring, but there's no set rule, so feel free to wear it on whichever finger you'd prefer.
When shopping for an eternity ring for your spouse, you should keep in mind the style of their engagement and wedding rings, as the new ring should complement their existing Jewelry. One of the most popular ways to wear an eternity ring is sitting on top of both the wedding ring and engagement ring, providing a beautiful, sparkling look.
What's the Difference between a Wedding Ring and Diamond Eternity Ring?
The defining feature of an eternity ring is that it has diamonds or gemstones running all the way around its band. These stones tend to be positioned closely together and there will be more of them, whereas wedding rings typically feature only diamond accents.
Wedding rings are often designed to match the engagement ring and sit comfortably next to it, but eternity rings are sold separately. Although the two types of ring have their differences, some couples may choose eternity rings rather than traditional wedding rings to exchange at their ceremony simply because they prefer their style.
Which Style of Eternity Ring Should I Choose?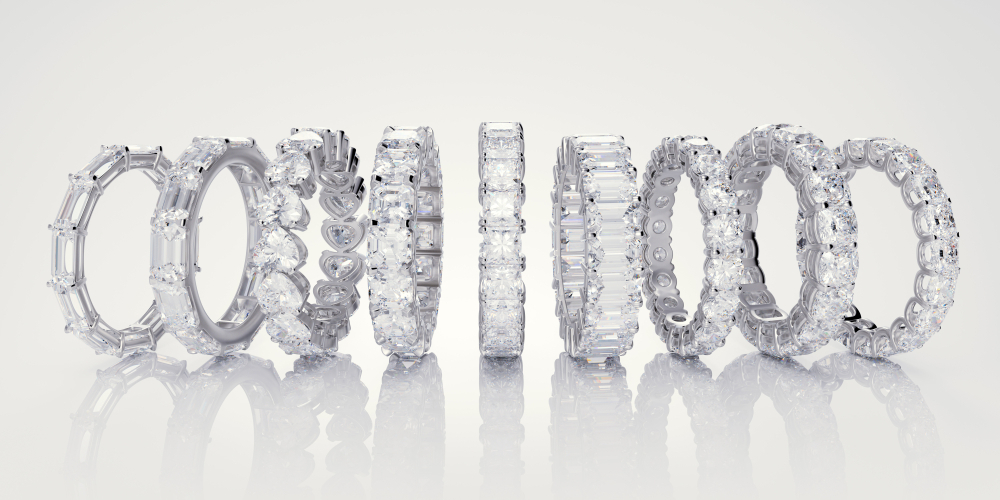 There are several design elements to consider when choosing an eternity ring. But before you consider the band type, setting and diamond shape, you should first decide whether you'd prefer a full or half eternity ring.
Full Eternity Rings
Full eternity rings have diamonds or gems set in a continuous line around the whole band. This is the most traditional type of eternity ring, with the unbroken circle of stones representing continuous love. As they contain more gemstones, full eternity rings tend to be heavier and more expensive than half eternity rings, but they offer a luxurious design and impressive sparkle. When buying a full eternity ring, be mindful that they are difficult to resize and must match the ring wearer's finger size exactly.
Half Eternity Rings
Half eternity rings feature a line of diamonds or gemstones on the face of the ring, while the bottom of the band is pure metal. These rings are often chosen because they are more comfortable and less heavy for daily wear. The continuous line of stones at the top of the ring remains symbolic of eternity.
Popular Eternity Ring Settings
There is a range of settings to consider when buying eternity rings. Below are some of the most popular options, each offering a different look.
Channel Setting
A channel-set eternity ring features stones set into a metal channel. This is one of the most effective methods for keeping diamonds secure, making it an excellent choice for any wearer with an active lifestyle. The metal at each edge of the ring protects the diamonds and holds them in place.
Pavé Setting
A pavé-set eternity ring ensures stunning sparkle, featuring a large number of tiny diamonds lining the metal band. These diamonds are held in place with metal beads, creating the appearance of a continuous line of stones.
Claw Setting
A claw-set eternity ring uses tiny prongs to keep each diamond in place. This is the most traditional option, allowing maximum light into the stone for a dazzling look. Claw settings are less secure than channel-set rings and must be worn with care.
Rubover Setting
A rubover or bezel setting is another secure way to fix diamonds to your eternity ring's band. These rings incorporate diamonds or gemstones within circles of metal, folded to lock each stone in place. The result is a beautiful piece of Jewelry that's durable and easy to clean.
Bar Setting
Bar-set eternity rings ensure stability while allowing a good level of light to pass through the diamond or gemstone. In this setting, vertical bars hold the stones in place, resulting in a dramatic, modern design.
Diamond Shapes to Choose From
The most popular diamond shape for eternity rings is the round diamond, but princess, emerald and baguette-cut diamonds are also classic options. When shopping for eternity rings, you'll find styles with all kinds of diamond shapes, so you can be sure to find a stunning piece that perfectly suits your style.
Selecting an Eternity Ring Band
Eternity ring bands are usually made using a precious metal, with the most popular options being gold, white gold, and platinum. Ideally, you should choose a ring of the same metal type as your partner's wedding and engagement rings or any other Jewelry they like to wear.
The precious metal you choose will depend on your budget and the wearer's personal style. Platinum is more expensive than 18k gold but remains an enduring choice for eternity rings because of its strength, durability and the desirable patina it develops over time. White gold is a popular option because it offers a classic look and blends in perfectly with diamonds.
Can You Get Gemstone Eternity Rings?
As the strongest, rarest and most precious gems, diamonds are the most popular stone chosen for eternity rings. If you'd prefer something different, however, there are several gemstones available, including rubies, emeralds and sapphires. You may choose a coloured gemstone eternity ring that incorporates your partner's birthstone or one representing a special wedding anniversary — there are endless options available and the choice is yours.
How to Get the Right Size When Buying an Eternity Ring
If you're planning to buy a full eternity ring, it's advisable you get the size right the first time. If it is to be worn on the left ring finger, you can easily determine the correct size using the wearer's existing wedding or engagement ring. If not, you'll need another ring worn by your partner for reference or will have to measure the finger they'd prefer to wear it on.
How Much Do Eternity Rings Cost?
Eternity rings vary significantly in price depending on what you're looking for. The shape, size and quality of the diamonds or gemstones you choose will significantly impact the cost of your chosen ring, as will the type of precious metal used. Choosing lab-grown diamonds rather than naturally mined stones will also provide the exact same look at a fraction of the cost.
Eternity rings may vary from under £1000 for a modest half eternity ring to over £20,000 for a full eternity ring with a platinum band and excellent quality diamonds. With a wide variety of options available on the market, buying a beautiful eternity ring that fits your budget and requirements is easy.
If you're thinking about buying an eternity ring for your life partner, you'll want it to be perfect. At Rêve Diamonds, we've got a stunning range to choose from and our expert jewellers can also craft you something bespoke. Explore our full selection of eternity rings online, book a virtual consultation or arrange a visit to our London showroom to see our exquisite diamond Jewelry up close.