How To Buy an Engagement Ring – Our short Guide
If you are planning to buy a diamond engagement ring there are a number of things to consider before you make a purchase. We have put together this guide to advise you through the process and help you make the perfect choice.
Learn about diamonds:
To begin shopping for a diamond, you need to have a basic understanding of how diamonds are classified. Remember that diamonds are evaluated according to the four 'Cs'. These are: carat, colour, clarity and cut. By understanding these qualities you can determine which traits are most important to you. To get a quick guide to diamonds you can visit our DIAMOND EDUCATION page, but if you are serious about purchasing the perfect ring then we will talk you through all the information you require.
Recommendations:
We recommend a diamond ring which has the following:
What should I avoid when buying a diamond?
We would advise buying a diamond engagement ring that has a G (or higher) colour as diamonds under the D-G colour range tend to appear yellow. We also suggest that you avoid round cut diamonds with a cut grade below 'very good' as these diamonds can appear duller than those graded 'very good' or excellent. Bear in mind that round brilliant cut diamonds are more expensive than most popular fancy cut diamond shapes with similar carat colour clarity and cut grades as they have a diifferent and higher price list per carat. We would advise buying an oversized diamond as they look a lot closer to the next size up but are still priced according to the lower size price. For example, a 0.60ct diamond will be priced according to the 0.50-0.69 price list but will actually look like a 0.70ct. A 1.2ct will look more like a 1.5ct but can cost much less as it is on the 1ct-1.49ct price list. Oversizes may trade at 5% to 15% premiums over similar quality straight size but still will be cheaper than the next size up for the same colour and clarity Oversizes are: (0.4-0.49), (0.60-0.69), (0.80-0.89), (0.96-0.99), (1.20-1.49), (1.60-1.99), (2.50+), (3.20+) and (5.50+) Diamond prices jump significantly at the carat and half-carat mark. Purchasing just shy of those weights can save a significant amount of money and the slight size difference will go unnoticed.
How much should I spend on a diamond engagement ring?
How much you spend on an engagement ring is a personal matter. Traditionally, the amount one spends on the purchase should be equal to one to two months' salary. However, recent trends show a move away from this tradition. Everyone has a different budget, and it is a good idea to keep a price range in mind. Set a budget that works for you and stick with it. It may sound like common sense, but there is a lot of ridiculous noise out there about spending three months salary on a ring. That's all marketing. Don't fall for it.
Buy direct & save money:
Retailers can mark up a new diamond ring by up to 100%, so If you are really on the hunt for a good deal then you may want to consider cutting out the middle man. Like us, there are a number of reputable diamond merchants trying to break with the traditional supply chain of the diamond industry. We sell engagement rings to customers directly and are therefore able to cut costs. The best thing about buying wholesale is that you can use the money you save to buy an even bigger diamond.
Buying an unset diamond:
Buying an unset diamond is a great idea. You can buy an unset diamond directly from a diamond dealer or manufacturer. If you choose the diamond first and have the setting made later you will have a lot of choice in terms of design. You would also have the option of consulting your soon to be fiancée about the style and design. You may even want to include her in selecting the style and finer details of the ring. This will ensure that you do not purchase an engagement ring that is unsuitable, or not to her taste.
Give her what she wants:
To get an idea of the ring styles she likes, take notice of any jewellery that she wears. Does she prefer modern or traditional? Does she favour white gold, yellow gold or platinum? Have these preferences in mind when you set out to shop. If you buy something similar to what she already likes, you can't go wrong.
What suits her?
If she hasn't made it easy for you by voicing an opinion on the subject (or admiring someone else's engagement ring), here are a few things to keep in mind when considering shape: She will be wearing this ring every day throughout your married life. It will need to go with everything from jeans to evening wear. If you're uncertain about her shape preference, it is a good idea to stick to the classics. Classic designs have become 'classics' because they appeal to most people, most of the time Shapes with fewer facets, such as emerald or square, require higher clarity. The fewer the facets, the more visible any inclusions will be. Certain shapes pair more successfully with other gems in multi-stone rings. Round, oval and marquise shapes work well with other gems, where as pear and heart shapes are more challenging Taste in shape is often reflected in other tastes a woman has. If she prefers clean, modern lines in furniture, for example, it's likely she'll react well to the same aesthetic in emerald or square shapes. If she leans towards the traditional, a round shape is likely to please her. If she has a bohemian style she may favour more unusual shapes like trilliant or marquise.
Which ring setting?
While there are an unending variety of patterns, details and metal choices, most rings fall into one of these basic categories: Solitaire Diamond Ring: A solitaire is a single stone. The solitaire is still the most popular choice of engagement ring. The head secures the diamond and prongs allow the diamond to catch the light. A four-prong-setting shows more of the diamond, but a six-prong setting is often more secure.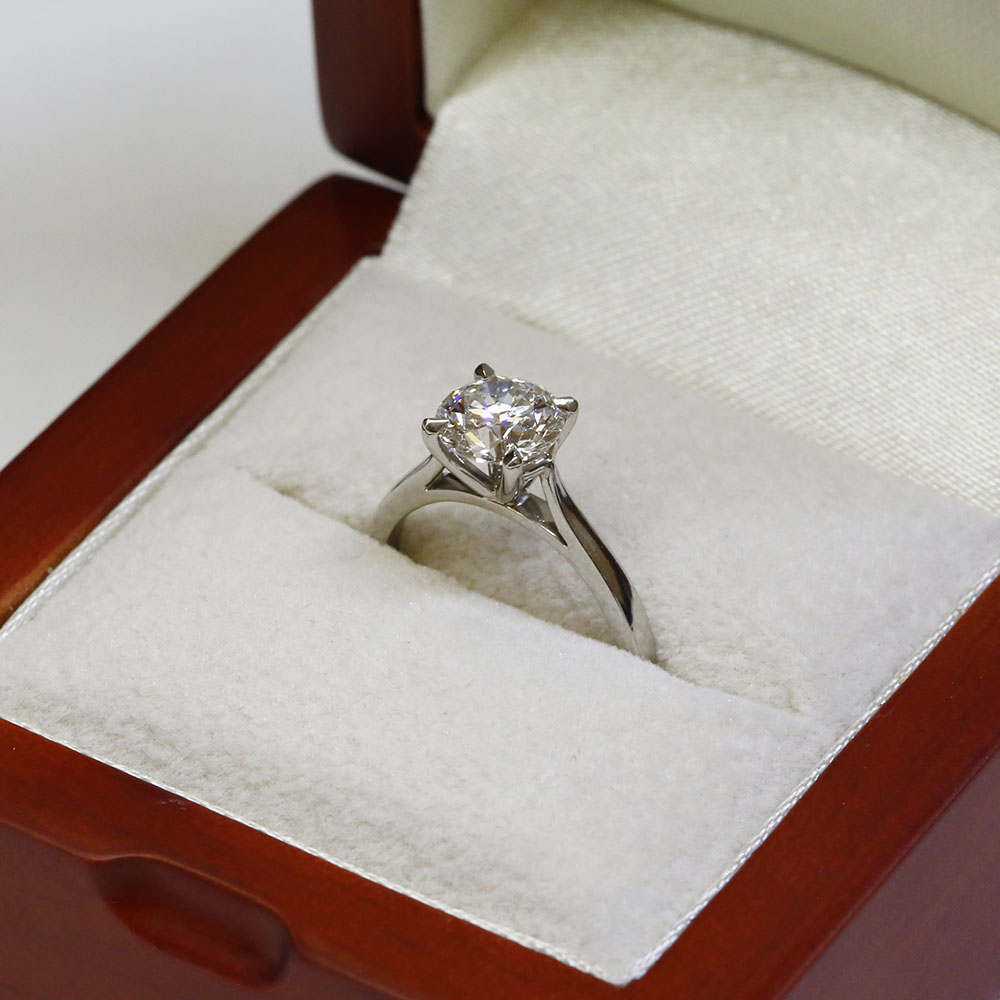 You can find more solitaire engagement rings designs here
Diamonds or other gemstones, flank the main stone for additional sparkle or colour. Popular side stone settings include 'channel', which protects stones by keeping them flush, and 'bar-channel', which allows light to enter the side stones.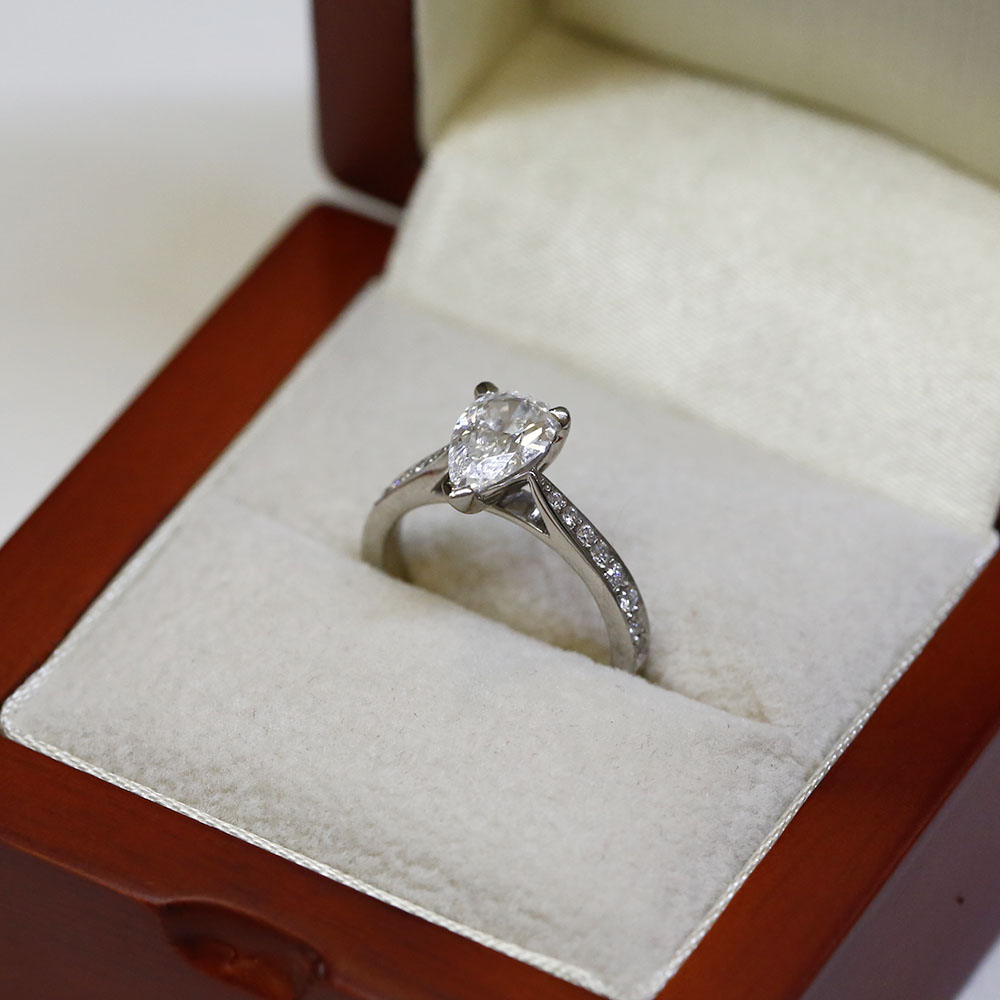 You can find more diamond set side stone engagement rings designs here
The main stone is surrounded by tiny diamonds to add sparkle and the illusion of greater size. As to actual setting design, consider her lifestyle, and how well a certain setting will fit into it. If she is an active type, look for lower profile, less ornate, sturdy choices, which are less likely to get knocked or caught on things. If she likes glamour, look for statement settings, with a higher stone profile, more intricate ring detailing or a unique motif.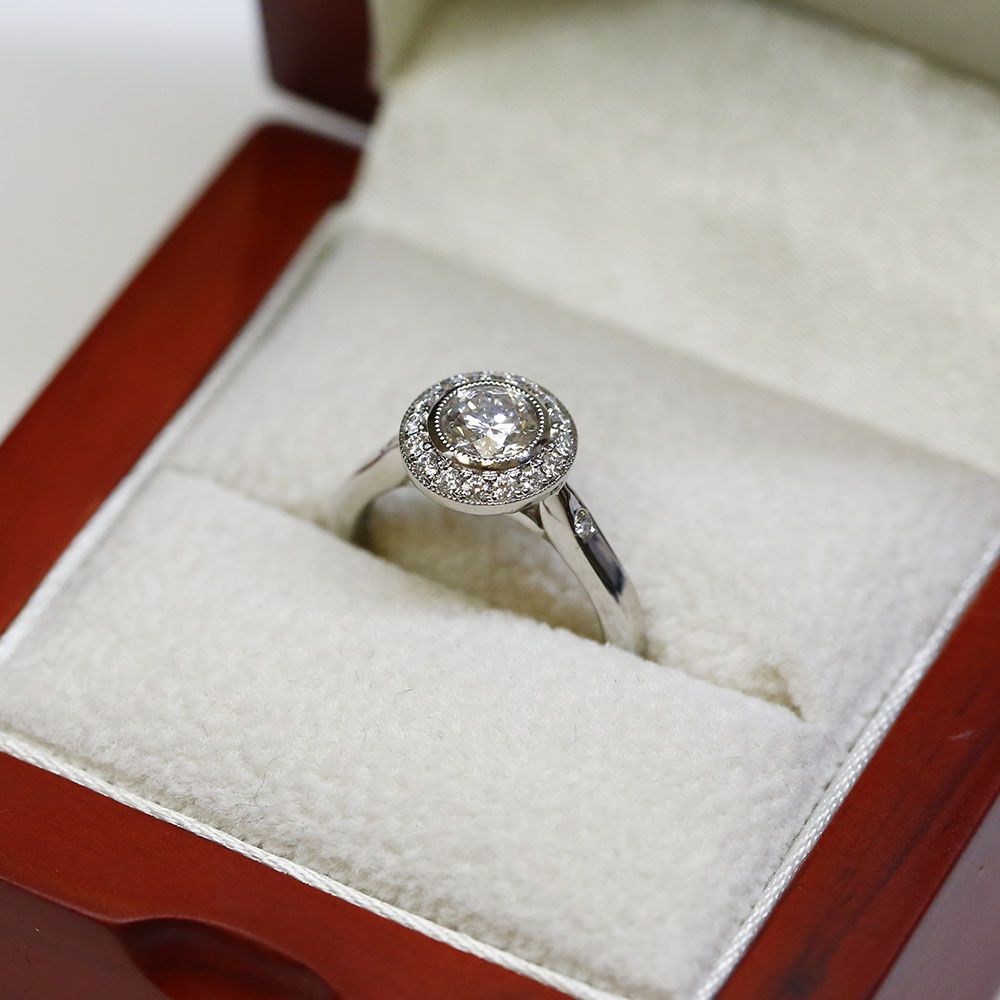 You can find more halo engagement rings designs here
Visit our ring size chart page, download the ring size chart PDF file via this link and print it on an A4 page. Just look in her jewellery box and find a ring that she rarely wears and simply place it on one of the rings on the file to discover her ring size.
For accurate sizing the grey line should be seen to be on the inside of the ring. Another way to do it is if she wears rings, borrow one she already owns. Trace the inner circle on a piece of paper, or press the ring into a bar of soap for an impression. You can also slide it down one of your own fingers and draw a line where it stops. A jeweller can use these measurements to identify her approximate ring size. If she does not wear rings you can use the guide below to estimate her size. If you buying a ring for yourself the easiest way to get an accurate finger measurement is to order one of our free ring sizers. To order your free ring sizer please send a message via our Contact Us page
Ring Sizes in the U.K and Ireland:
Ring sizes for women typically range from size G to R. The most commonly purchased ring sizes range from size K to N. Size M is the most popular ring size. Ring sizes for men typically range from size P to Z. The most commonly purchased ring sizes range from size R to U. Size T is the most popular ring size.
| U.K | USA / CND | Diameter (mm) | Circumference (mm) |
| --- | --- | --- | --- |
| F | 3.0 | 13.92 | 43.65 |
| G | 3.5 | 14.31 | 44.90 |
| H | 4.0 | 14.70 | 46.20 |
| I | 4.5 | 15.09 | 47.45 |
| J | 5 | 15.87 | 48.70 |
| K | 5.5 | 15.9 | 49.95 |
| L | 6.0 | 16.26 | 51.25 |
| M | 6.50 | 16.65 | 52.45 |
| N | 7.0 | 17.04 | 53.70 |
| O | 7.5 | 17.45 | 55.00 |
| P | 8.0 | 17.86 | 56.25 |
| Q | 8.5 | 18.27 | 57.50 |
| R | 9.0 | 18.68 | 58.75 |
| S | 9.5 | 19.09 | 60.00 |
| T | 10.0 | 19.50 | 61.25 |
| U | 10.5 | 19.91 | 62.50 |
| V | 11 | 20.32 | 63.75 |
| W | 11.5 | 20.73 | 65.00 |
| X | 12 | 21.14 | 66.30 |
| Y | 12.5 | 21.55 | 67.50 |
| Z | 13 | 21.96 | 68.75 |