GIA Laser Inscription
What is a GIA laser inscription?
Diamonds accompanied by GIA typically feature a micro-laser inscription applied to the edge of the diamond. The GIA report appears microscopically engraved on the outer edge (girdle) of the diamond.
If you are looking for confirmation that the diamond you have bought or are about to buy is really the calibre it claims to be, then you will probably be looking for some kind of independent valuation or opinion to demonstrate its worth. If you own the diamond in question, you may at some stage in the future need to prove that ownership.
What you should be asking for is a GIA Diamond Grading Report and a micro-laser inscription on the diamond itself. The GIA is the Gemological Institute of America, a body entirely independent of any retailer or commercial organisation. It was this organisation that developed the first ever internationally accepted Diamond Grading System.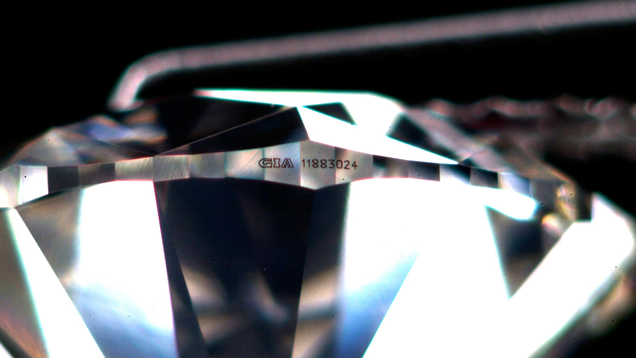 The GIA analyses the quality of each unmounted diamond submitted to it and grades it in terms of its colour, its cut, its clarity and its weight in carats. Any distinguishing features that mark it out from other similar diamonds are also recorded, such as inclusions and other characteristics. The information is all recorded under a number issued uniquely to your diamond in the GIA's online registry database, known as Report Check.
As an additional benefit and at a small extra cost, the GIA also offers owners the opportunity to have this registered number laser engraved onto the thin, outer edge of the diamond (known as the girdle). This could help prove the ownership and the worth of the stone, if either are ever called into question. There is even the opportunity to have a short personal inscription added, such as the date of an anniversary, a name or a message.
But how can you access this service? If you would like either an official GIA Diamond Grading Report (or a Diamond Dossier for diamonds weighing 1.99 carats or less), or would like your own laser inscription carried out by the GIA Laboratory, the safest way is through a recognised and reputable jeweller such as Rêve Diamonds. We can handle all the arrangements on your behalf and answer any queries you may have about the Grading Report, if you have opted to have one of these carried out.
You can find the GIA laser inscription number on the additional grading information section on your GIA grading report