Tiffany Engagement Ring
One of the most famous and therefore enduringly popular of the settings is the Tiffany, which is a variant of the prong setting. Created by Charles Tiffany in the 1880s, the design is thought to be one of the most sought-after because of its stunning look and pedigree.
The term and design of the 'Tiffany setting' has been trademarked by Tiffany & Co, so you are also likely to see this type of ring advertised as a multi-prong solitaire ring. Prior to the invention of this style, diamonds tended to be set in bezel settings – secure, but obscuring the depths of the stone.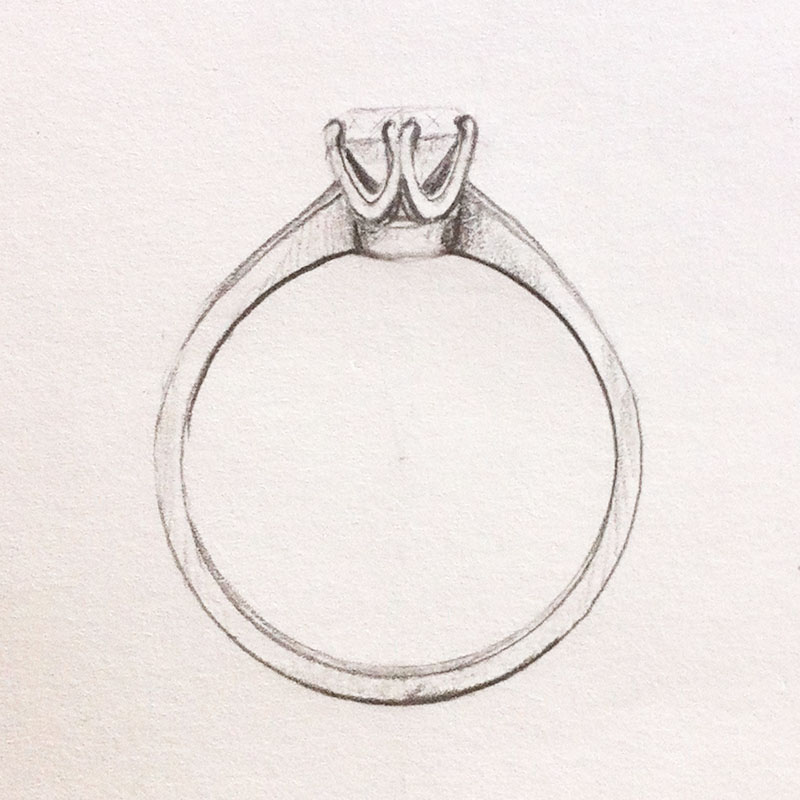 The overall intention behind this kind of setting is to raise the gemstone higher in the setting and allow as much light as possible to get to the diamond's surface. This results in the maximum sparkle possible from a single stone. It is constructed from a raised claw, which holds the diamond securely while allowing the light to shine through its many facets. The less metal that is used in the fabrication of the claws that hold the ring, the more brilliant and the larger it will appear.
Prong setting engagement rings such as this will usually have three, four or six individual prongs welded or soldered into the band in order to mount the diamond to the metal. Clearly, the fewer prongs that are used, the more the diamond is exposed. This has the advantage of allowing the most light possible to enter the stone and give off brilliance. Equally, however, it can make the stone more vulnerable to accidental loss or damage. Purchasing from a high quality jeweller and regularly checking the stone is firmly set and cleaned when necessary will give you confidence in the security of your stone.
Explore our Tiffany inspired diamond rings below - click on the image to learn more
Tiffany Soleste split shank double halo ring
The Tiffany Soleste split shank double halo ring is a stunning design that is timelessly classical and the epitome of elegance and sophistication. This beautiful ring takes sparkle and brilliance to the next level. It encompasses a striking cushion cut diamond at its centre surrounded by a double halo of brilliant bead-set diamonds and a diamond band which reflect and refract light to produce an unrivalled display of brilliance that is akin to the rays of the sun.
Tiffany & Co Stores in United Kingdom
Heathrow
Heathrow Airport T3 (Airside)


Heathrow Airport
Hounslow TW6 1QG
020 8283 1450
Mon.-Sun.: 06:00-22:00

Heathrow Airport T5 (Airside)


Heathrow Airport
Hounslow TW6 2GA
020 8283 7005
Mon.-Sun.: 05:30-22:00
New store opposite Gate A15
London
Old Bond Street


25 Old Bond Street
London W1S 4QB
0800 160 1837
Mon-Sat: 10:00-19:00
Sun: 12:00-17:00




Canary Wharf


Cabot Place
Canary Wharf
London E14 4QS
0800 160 1837
Mon-Fri: 09:00-20:00
Sat: 10:00-18:00
Sun: 12:00-18:00

Harrods Fine Jewellery


87-135 Brompton Road
Knightsbridge
London SW1X 7XL
020 7730 1234
Mon-Sat: 10:00-21:00
Sun: 11:30-18:00 (30 minutes browsing time)




Harrods Luxury Jewellery


87-135 Brompton Road
Knightsbridge
London SW1X 7XL
020 7730 1234
Mon-Sat: 10:00-21:00
Sun: 11:30-18:00 (30 minutes browsing time)




Royal Exchange


The Courtyard
Royal Exchange
London EC3V 3LQ
0800 160 1837
Mon-Fri: 09:30-18:30
Sat & Sun: Closed

Selfridges


Selfridges
400 Oxford Street
London W1A 1AB
0 800 123 400
Please call for opening hours



Sloane Street


145 Sloane Street
London SW1X 9AY
0800 160 1837
Mon-Tue:10:00-18:00
Wed:10:00-19:00
Thu-Sat: 10:00-18:00
Sun: 12:00-17:00


Westfield London


Westfield
The Village
London W12 7GQ
0800 160 1837
Mon-Sat:10:00-21:00
Sun:12:00-18:00
Manchester
Selfridges Manchester


1 Exchange Square
Manchester M3 1BD
0 800 123 400
Please call for opening hours